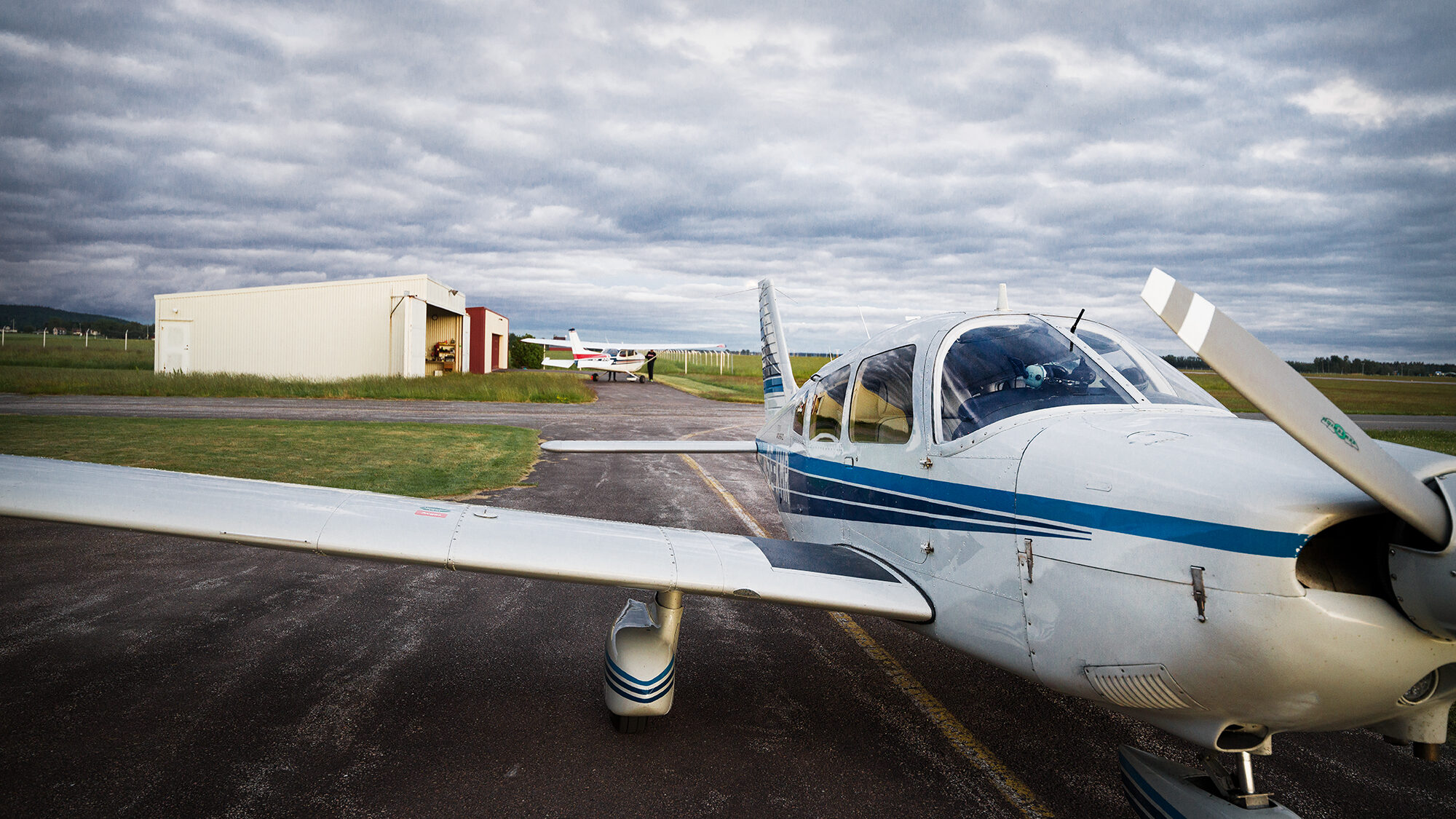 Distance Theory Course (PPL/LAPL)
Privileges and conditions
This distance theory course will give you all theory training needed for PPL/LAPL.
The course includes three weekends of classroom instruction at the flight school and if desired, we will plan CAA examinations (PEXO) in direct connection with these occasions.
School tests and CAA examinations are performed at the flight school.
Theory Training
The PPL/LAPL theory training consists of 135 hours (15 hours per week) distance learning/self studies with web based literature from Flygcert.com followed by 27 hours classroom instruction conducted at the flight schools facilities at Trollhättan Airport.

The price includes:
Flygcert.com PPL or LAPL course in Swedish or English
Support during the self-study period including progress monitoring
Classroom lessons
School tests with review
Planning for CAA tests
Subjects:
AGK – Aircraft general knowledge
POF – Principles of flight
ALW – Air law
MET – Meteorology
COM – Communications
HP – Human performance
NAV – Navigation
FPP – Flight performance and planning
OP – Operational procedures
Price 14 500 SEK. To be paid before the course starts. (Exclusive additional training material)
You buy your additional training material here
Stockholm ICAO chart
Jeppesen ST-CSG Flight computer
Civil Air L1P Gama PPL
Theory Course start week 12 and 34. You can start your flight training and self studies anytime!
Note: All prices incl VAT. Examination and Certificate costs not included.
Theory Course schedule – PPL/LAPL
| | | | | | | |
| --- | --- | --- | --- | --- | --- | --- |
| Week | Week | Day/Time | Lesson | Ground lesson | Classroom (h) | Distance (h) |
| 12 | 34 | Sat 10-12 | 0 | Introduction | 2 | |
| 13 | 35 | | | Self studies AGK | | 15 |
| 14 | 36 | | | Self studies POF | | 15 |
| 15 | 37 | | | Self studies ALW | | 15 |
| 16 | 38 | | | Self studies repetition | | |
| 16 | 38 | Sat 8-12 | 1 | AGK – Aircraft general knowledge | 3 | |
| | | Sat 13-17 | 2 | POF – Principles of flight | 3 | |
| | | Sun 8-12 | 3 | ALW – Air law | 3 | |
| | | Sun 13-17 | 4 | Progress check, school tests and review | 3 | |
| 17 | 39 | Mon 17-21 | – | CAA test (PEXO) | | |
| 17 | 39 | | | Self studies MET | | 15 |
| 18 | 40 | | | Self studies COM | | 15 |
| 19 | 41 | | | Self studies HP | | 15 |
| 20 | 42 | | | Self studies repetition | | |
| 20 | 42 | Sat 8-12 | 5 | MET – Meteorology | 3 | |
| | | Sat 13-17 | 6 | COM – Communication | 3 | |
| | | Sun 8-12 | 7 | HP – Human performance | 3 | |
| | | Sun 13-17 | 8 | Progress check, school tests and review | 3 | |
| 21 | 43 | Mon 17-21 | – | CAA test (PEXO) | | |
| 21 | 43 | | | Self studies NAV | | 15 |
| 22 | 44 | | | Self studies FPP | | 15 |
| 23 | 45 | | | Self studies OP | | 15 |
| 24 | 46 | | | Self studies repetition | | |
| 24 | 46 | Sat 8-12 | 9 | NAV – Navigation | 3 | |
| | | Sat 13-17 | 10 | FPP – Flight performance and planning | 3 | |
| | | Sun 8-12 | 11 | OP – Operational procedures | 3 | |
| | | Sun 13-17 | 12 | Progress check, school tests and review | 3 | |
| 25 | 47 | Mon 17-21 | – | CAA test (PEXO) | | |